Workforce Recruitment Incentive Program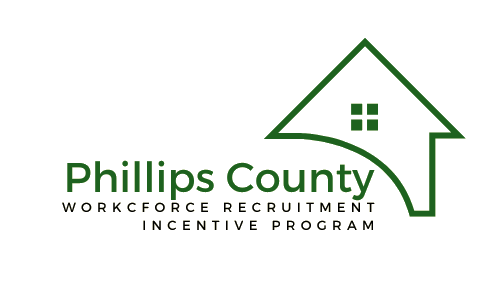 On March 28th, 2023, Phillips County Economic Development (PCED) was awarded a Workforce Recruitment Incentive grant through The Northwest Kansas Economic Innovation Center, Inc. (NWKEICI), based out of Norton, Kansas. This grant provides approved applicants with $60,000, divided into two payments, to disperse as recruitment incentives to businesses within their counties. This grant can be applied for annually by local Economic Development offices.
One of the largest priorities of the Workforce Recruitment Incentive board is to provide an exceptional experience, not only for new employees, but also for the families they may bring with them. They aim to help identify the county's unique assets, and build upon them, to encourage families to relocate to our county. The board sees the importance of assisting businesses with recruiting new residents to the county, as well as providing incentives to attract and retain current residents in need of a job.
We are very excited to offer this incentive program to Phillips County businesses!
 How can my business participate?
The Phillips County Workforce Recruitment Incentive Board has developed a packet for employers to apply for these funds. Application packets will be distributed to chambers of commerce and employers across the county, and will be accessible from this webpage. All program awards are subject to the availability of funds, and are available on a first-come, first-served basis.
**The Workforce Recruitment Incentive Board is separate from the Phillips County Economic Development Board.**
How do I know if my business is eligible?
Incentivized positions must be full-time and pay a minimum wage of $15.50 per hour, or a minimum salary of $32,500 per year. The only exception to these requirements is if the local Workforce Recruitment Incentive board deems certain employment openings as "critical positions," determined by market research. If you currently do not meet the minimum wage requirements and the position you are applying to incentivize is not deemed "critical", the local Workforce Recruitment Incentive board does allow you the opportunity to increase your wages to meet the requirements. 
Award agreements are for one (1) calendar year.
Only new employees will be eligible for the incentive funds and candidates must live in Phillips County or locate to Phillips County within three months of accepting an approved, incentivized position. 
Employers who wish apply for this program must post the job opening on both the Phillips County Jobs website and the ConnectNWK website. 
All questions can be directed to the Phillips County Economic Development Office!
Program Requirements & Qualifications
Phillips County Workforce Recruitment Incentive Application
**The Workforce Recruitment Incentive Board would like to emphasize that these incentives come as a grant from Northwest Kansas Economic Innovation Center, Inc., not from sales tax collections in Phillips County. This board is not associated with the Phillips County Economic Development board.**