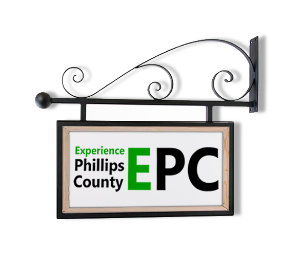 PCED's Commercial Revitalization Program has developed into an impactful program utilized by multiple Phillips County business owners. Since its release, PCED has provided financial assistance to five local businesses with additional projects currently in progress. The CRP program was created to provide assistance to Phillips County business owners for the rehabilitation to the facade of their business location. Qualified projects can include signage, awnings, windows & doors, and exterior renovation. Once candidates are approved and the work is completed, candidates will be awarded a dollar-for-dollar match towards the cost of their CRP project with a maximum reimbursement award of $5,000 project. This might be the additional financial support you, as a local business owner, may need to kick start your storefront improvement project.
PCED is currently taking applications for the 2020 funding year. To fill out an application please visit: Commercial Revitalization Program
Take a look at the successful CRP projects in Phillips County. 
743 3rd Street

Complete storefront remodel

Olliff & Boeve Furniture

Installed bronze windows and doors

Dubs Liquor

Installed bronze windows and doors

Cotten Collision Inc.

Painted exterior, installed new doors and overhead doors

Coomes Inc

Installed LED sign